With the work completed on your gorgeous new patio, you're trying to decide on the best way to connect your indoor and outdoor living spaces. After weighing your options, you're down to two: folding vs. sliding patio doors. Which product is better for your needs?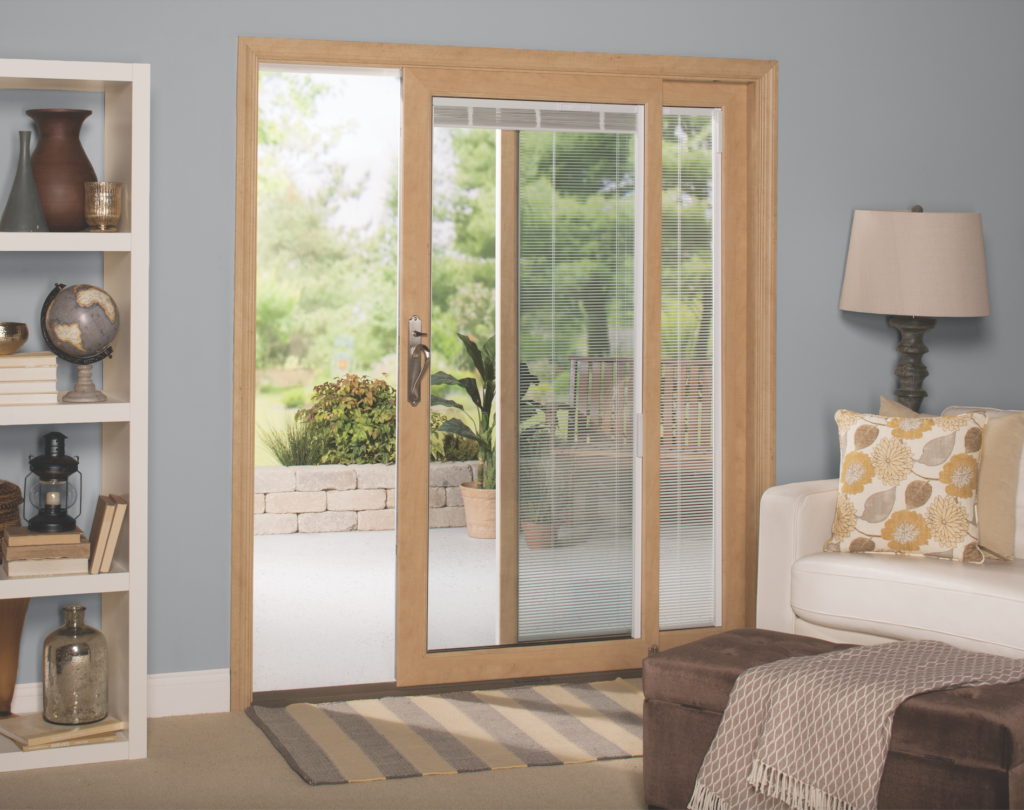 Folding vs. Sliding Patio Doors
Both folding and sliding patio doors can be great choices, so it's tough to go wrong as you work to select the right door to provide access to your new patio. To make the best choice for your situation, start by educating yourself about the two types of doors. Next, consider the factors that will matter most for your experience. Then, you'll be able to decide the matter of folding vs. sliding patio doors with confidence.
The Folding Patio Door
Sometimes called bifold doors, folding patio doors feature several glass panels connected by hardware that close together like the pleats in a handheld fan. It's a space-saving design that neatly moves the doors out of the way along a track when you want to access your outdoor living space.
The Sliding Patio Door
Sliding patio doors feature two or more overlapping panels of framed glass. They open by sliding to either side along a track.
The View
If you value an unobstructed view of the outdoors when your doors are closed, sliding patio doors may be your top choice. Because these doors feature large panels of uninterrupted glass, they tend to do a better job of showcasing an unlimited view of the world beyond. In contrast, walls of closed folding doors are broken by the lines of frequent doorframes.
What if you plan to have your doors open when enjoying the view? A typical sliding door setup pushes the doors to the side. They don't completely clear the opening, and their frame may block part of the view when they're open. However, you may be able to invest in a pocket door design that would allow the sliding doors to disappear completely when opened. Or, of course, you may decide that you prefer folding doors. Since these doors naturally fold to the sides, they deliver an uninterrupted view when open.
The Access
How much importance do you place on the ability to pass freely between your inner sanctums and your outdoor spaces? Folding doors provide a lot of control. You can open them a little when you want a small gateway. You can fold them all the way back, and you'll have almost your whole doorway available. Sliding doors tend to be more limited. Since they are designed to overlap, you normally have the width of at least one panel blocked at all times. Although it's possible to find some sliding doors that hide away as pocket doors, these are more expensive and can impact the surrounding structure.
Thresholds are another consideration. As Real Homes points out, folding doors can be installed with tracks that are level with the floor, which is better for those who use a wheelchair, have tripping issues, or simply prefer not to worry about having to step over the track. However, thresholds also serve a purpose: they keep water out. Before opting for a door that doesn't have one, you'll need to verify that your patio has proper drainage. If it doesn't, you'll want to correct the matter or choose a door with a threshold to protect your home from water damage.
The Energy Usage
Energy costs seem to creep up constantly. To protect your wallet and the environment, thinking about energy use when selecting patio doors just makes sense. Various factors like the type of glass, the other materials used, the quality of the doors, and the installation will affect the result. However, design factors put folding doors at a disadvantage. More panels and hardware mean that they inevitably have more gaps that can allow drafts. This translates into a greater chance of inefficiency. Therefore, sliding doors tend to be better for your energy bill.
_____
When you're searching for the ideal doors to connect your home and patio, turn to American Window Company. With an amazing selection of trusted brands and expert advice you can rely on, we're always ready to help you find the products that are right for your home and your budget. Check out our wide selection of doors today.